Introducing The Verve Sax Quartet
The Verve Saxophone Quartet was established in 2007, and has been entertaining enthusiastic audiences with exciting ensemble performances throughout Orange and Los Angeles Counties.
The quartet plays various styles of jazz, such as be-bop, ragtime, big band swing, Broadway hits, and contemporary arrangements of popular music, but specializes in the style of "West Coast Jazz".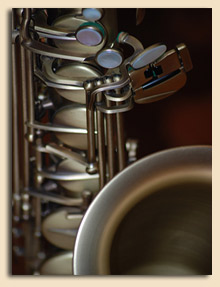 The group's members have been profoundly affected by their love for the style of West Coast Jazz, which was developed around the Los Angeles and San Francisco areas in the 1950's and 1960's.  Many of the arrangements that the group performs were originally recorded by the Hollywood Sax Quartet, which helped to define a new era of jazz arranged for small ensembles. Most of this jazz repertoire was arranged by Lennie Niehaus, one of the great West Coast alto sax players and arrangers. Niehaus created many arrangements for Stan Kenton, and countless television and motion picture soundtracks.
The goals of the Verve Saxophone Quartet are not only to entertain, but also to educate and inspire listeners and musicians alike. The beautiful and diverse styles and harmonies created by four saxophones consistently surprises audiences. The quartet showcases the talent and versatility of the ensemble through performances ranging from majestic ballads to hard swinging jazz, to brilliant arrangements of popular music by The Beatles, Henry Mancini, and many more.  The arrangements are exciting and well orchestrated, each painting a picture, and taking the listener on a unique musical journey.